A short Note on Harnaaz Kaur Sandhu the Miss Universe 2021
Harnaaz Kaur Sandhu (born 3 March 2000) is an Indian model and beauty pageant titleholder who was crowned as Miss Universe 2021, and she is the third Indian Miss Universe. Sandhu had been previously crowned Miss Diva Universe 2021.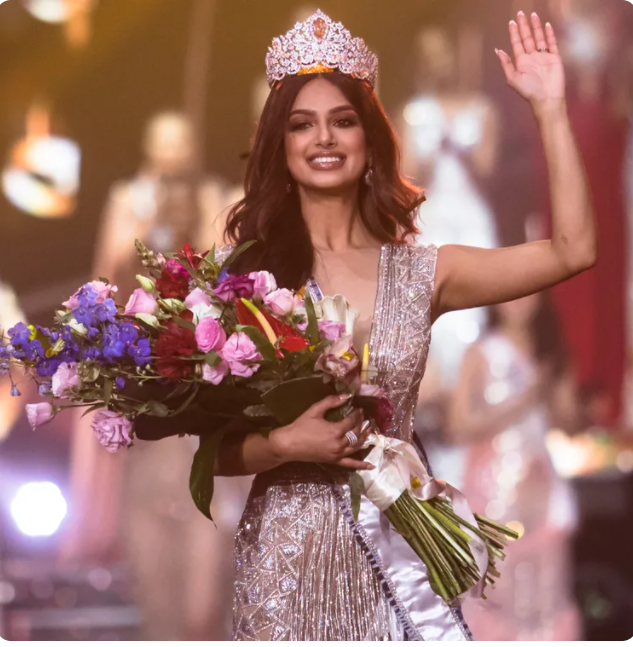 Sandhu was born and raised in Guruharsahai in a Punjabi Sikh family. She attended Kalia public school Guruharsahai and the Post Graduate Government College for Girls from Chandigarh. Apart from representing Miss Universe title, Harnaaz is pursuing her master's degree in public administration. She is fluent in Punjabi, Hindi, and English .
Sandhu began competing in pageantry as a teenager, winning titles such as Miss Guruharsahai 2016, Miss Ferozepur 2017 and Miss Max Emerging Star India 2018. After winning the title of Femina Miss India Punjab 2019, Sandhu competed in Femina Miss India, where she ultimately placed in the Top 12.
Miss Diva 2021
On 16 August 2021, Sandhu was shortlisted as one of the Top 50 semifinalists of Miss Diva 2021. Later on 23 August, she was confirmed as one of the Top 20 finalists that would compete in the televised Miss Diva competition. During the preliminary competition held on 22 September, Sandhu won the Miss Beautiful Skin award and became a finalist for Miss Beach Body, Miss Beautiful Smile, Miss Photogenic, and Miss Talented.
In the Miss Diva 2021 contest's opening statement round during the grand finale, Sandhu, as one of the top 10 semifinalists, stated:
"From a young girl with fragile mental health who faced bullying and body shaming to a woman who emerged like a phoenix, realising her true potential. From an individual who once doubted her own existence to a woman who is aspiring to inspire the youth. Today, I stand proudly in front of the Universe as a courageous, vivacious and compassionate woman who is all set to lead a life with a purpose, and to leave behind a remarkable legacy."
She was selected in the succeeding round of the competition. During the final question and answer round, the top 5 contestants were each given different topics to speak about, which the contestants themselves picked through draw. Sandhu had selected "Global Warming and Climate Change", to which she conveyed:
"One day, life will flash before your eyes, make sure it's worth watching. However, this is not the life you want to watch, where the climate is changing and the environment is dying. It is one of the fiasco that us humans have done to the environment. I do believe that we still have time to undo our irresponsible behaviour. Earth is all we have in common and our small acts as individuals when multiplied by billions can transform the whole world. Start now, from tonight, switch off those extra lights when not in use. Thank you."
At the end of the event, Sandhu was crowned as the winner by outgoing titleholder Adline Castelino.
Miss Universe 2021
As Miss Diva 2021, Sandhu received the right to represent India at Miss Universe 2021. The competition was held on 12 December 2021 in Eilat, Israel. Sandhu advanced from the initial pool of 80 contestants into the top sixteen, later advancing to the top ten, top five, and top three, before being crowned as the winner.
Following her win, she became the third Indian woman to be crowned Miss Universe after Sushmita Sen in 1994 and Lara Dutta in 2000.
What's Your Reaction?