The Women Scientists' and Entrepreneurs' Conclave of IISF 2020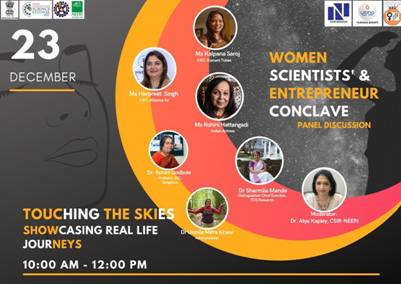 IISF-2020
Women Scientists' and Entrepreneurs' Conclave
Women Scientists' and Entrepreneurs' Conclave is a unique platform to discuss the challenges women scientists and entrepreneurs are facing in their lives and career. IISF 2020 provided this forum on virtual mode. Many renowned women scientists, actress and entrepreneurs shared their struggles and experiences in the conclave.
In a panel discussion (Touching the Skies Showcasing Real Life Journeys), Padma Shri Ms. Kalpana Saroj shared her thoughts. She described the trials and tribulations of her childhood and youth.
However, working 16 hours a day, she consolidated gains step by step till she acquired Kamani companies and turned it around. "The only lesson you need to understand from my journey", she insisted," is that grit, perseverance and a superhuman ability to have faith in yourself does wonders in life".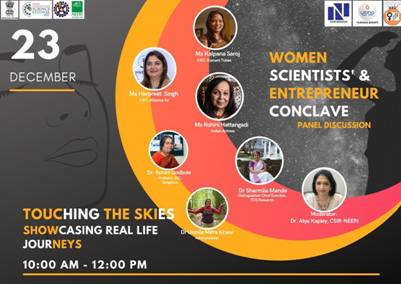 Renowned Indian Film Actress, Mrs Rohini Hattangadi talked about starting her life with the National School of Drama and also learning classical dance at the same time, Avishkar theatre group, worked in Japanese drama, the school for emerging actors. Then into cinema since 1984. "One of the most difficult roles was playing middle-aged Kasturba Gandhi in "Gandhi" opposite Ben Kingsley at the age of 27", she said.
She has received several awards including the prestigious BAFTA award and the stories behind them are of tough determination to surmount hurdles. She is a powerful actor on stage and screen, forever grateful to her guru Ebrahim Alkazi.
She stressed on the importance of having a support system, following your heart and working hard in whatever fields you d,o belong whether it is scientific research, education, drama or music. She said that a woman must always be strong to say 'NO' when she does not want to follow a path. "Maintain your dignity at all times and the world will learn to respect you", she asserted.
Dr. Urmila Mitra Kraev, a plasma physicist at the University of Cambridge, speaking in the conclave,said that as a young mother she was well aware of the issues related to pursuing a science career focused on frontier level research, which were prevalent globally. She said,
"But the rewards of science discovery are far greater than the difficulties and with planning and determination things do work out if one is confident of one's goal". She talked about how she developed interest in stars at the age of 11 and then followed her passion to become a successful astrophysicist.
Indian physicist, Padma Shri Prof. Rohini Godbole talked about her journey from studying physics in Pune to her current position as a particle physicist best known for her work at CERN. Her work on high energy photons could form the basis for the next generation of particle colliders, used to study the fabric and composition of the Universe. She said that she came from a middle-class family believing in education and supportive of her decision to pursue a career in science, which empowered her to do her PhD at Stonybrook University.
After that, she worked at TIFR, leading to the Drees Godbole effect and the Godbole Pancheri model. She is an active believer in providing a nurturing environment for the growth of girls in science. She stressed how Government can attract students from various walks with different fellowships.
Dr. Sharmila Mande, PhD from IISc, Bangalore and Distinguished Chief Scientist, current Head of Bio Sciences R&D in TCS, with deep-rooted research interests in microbiology is a strong supporter of women in science, specially in leadership positions. Dr. Mande is one of the first who worked on computational Biology.
She talked about her non-invasive marker that may lead to saving newborn babies. She suggested following one's heart to take up any challenges in one's life.
Mrs Harpreet Singh is the first woman to be selected by Air India as the first woman commercial pilot of India in 1988. However, due to health reasons, she had to leave her flying job.
Since then, she has been active in other areas of aviation including flight safety. She has been appointed as the CEO of the state-run airline's subsidiary Alliance Air, becoming the first-ever woman to head an Indian carrier. Although Air India has a large proportion of women pilots, she relates to the narrative of challenges of aspiring women, who want to forge a career.
Dr. Atya Kaple, Principal Coordinator of the Conclave moderated the panel discussion.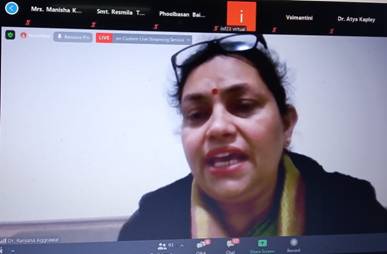 In another session, short films were shown virtually based on Living Inspirations of Rural and Tribal Indian Women across the country. In these films, the inspirational moments of struggle, hardships, efforts and success of those women entrepreneurs and tribes were highlighted.
Speaking as the Chief Guest of the event, Dr Ranjana Aggarwal, Director, CSIR-NISTADS in her address, highlighted the importance of hard work to achieve success.
She said that one must face hardships and should never give up and always forge ahead with determination. She also said that the life and struggles of rural and tribal women entrepreneurs inspire every woman to go ahead and realize her dream in life.
Dr. Leena Bavadekar, Coordinator of the Conclave, moderated the session on a film show of living inspiration.
Note: please Comment Here for UPDATES and CORRECTIONS
Why news media is in crisis & How you can fix it.
India needs free, fair, non-hyphenated and questioning journalism even more as it faces multiple crises. But the news media is in a crisis of its own. There have been brutal layoffs and pay cuts. The best of journalism is shrinking, yielding to the crude prime-time spectacle. My digital news .in has very few young reporters, columnists and editors working for it. Sustaining journalism of this quality needs smart and thinking people like you to pay for it. Whether you live in India or overseas, you can do it here
NOTE: Please email us for updates and corrections, if you wish to publish articles like this you can send them to info@mydigitalnews.in or mydigitalnews.in@gmail.com or you can Directicle write Articles on our Site by registering https://mydigitalnews.in/register
Disclaimer: Mydigitalnews.in provides the content from various information sources 'as is and the content to be used only for informational purposes and not responsible for the inaccuracy or deficiency of the provided information. Mydigitalnews. in have the right, at its sole discretion, to make modifications in any aspect of the provided information.
Mydigitalnews. in Internet site may contain links to other Internet sites. While we try to link only to sites that share our high standards and respect for privacy, we are not responsible for the content or the privacy practices employed by other sites.