Sri Nand Ram Tikku - The once Kashmiri native who ruled the Kabul 18 century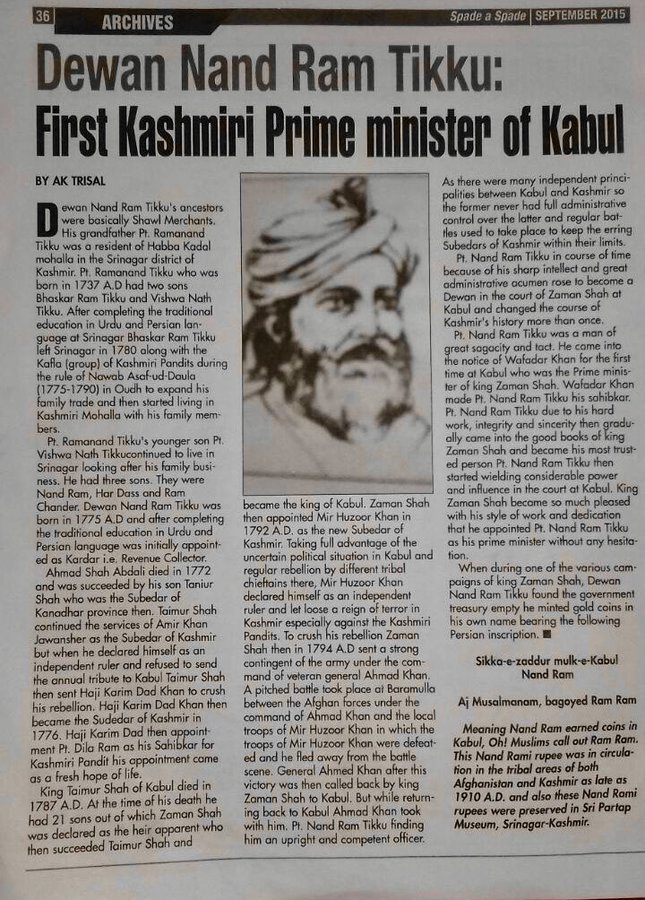 Dewan Nand Ram Tikku's ancestors were basically Shawl Merchants. His grandfather Pt. Ramanand Tikku was a resident of Habba Kadal mohalla in the Srinagar district of Kashmir. Pt. Ramanand Tikku who was born in 1737 A.D had two sons Bhaskar Ram Tikku and Vishwa Nath Tikku.
Also Read: How Pandits Ruled Kabul...
After completing the traditional education in Urdu and Persian language at Srinagar Bhaskar Ram Tikku left Srinagar in 1780 along with the Kafla (group) of Kashmiri Pandits during the rule of Nawab Asaf-ud-Daula (1775-1790) in Oudh to expand his family trade and then started living in Kashmiri Mohalla with his family members. Pt. Ramanand Tikku's younger son Pt. Vishwa Nath Tikkucontinued to live in Srinagar looking after his family business. He had three sons.
They were Nand Ram, Har Dass and Ram Chander. Dewan Nand Ram Tikku was born in 1775 A.D and after completing the traditional education in Urdu and Persian language was initially appointed as Kardar i.e. Revenue Collector. Ahmad Shah Abdali died in 1772 and was succeeded by his son Taniur Shah who was the Subedar of Kanadhar province then.
Taimur Shah continued the services of Amir Khan Jawansher as the Subedar of Kashmir but when he declared himself as an independent ruler and refused to send the annual tribute to Kabul Taimur Shah then sent Haji Karim Dad Khan to crush his rebellion. Haji Karim Dad Khan then became the Sudedar of Kashmir in 1776.
Haji Karim Dad then appointment Pt. Dila Ram as his Sahibkar for Kashmiri Pandit his appointment came as a fresh hope of life. King Taimur Shah of Kabul died in 1787 A.D. At the time of his death he had 21 sons out of which Zaman Shah was declared as the heir apparent who then succeeded Taimur Shah and became the king of Kabul.
Zaman Shah then appointed Mir Huzoor Khan in 1792 A.D. as the new Subedar of Kashmir. Taking full advantage of the uncertain political situation in Kabul and regular rebellion by different tribal chieftains there, Mir Huzoor Khan declared himself as an independent ruler and let loose a reign of terror in Kashmir especially against the Kashmiri Pandits. To crush his rebellion Zaman Shah then in 1794 A.D sent a strong contingent of the army under the command of veteran general Ahmad Khan.
A pitched battle took place at Baramulla between the Afghan forces under the command of Ahmad Khan and the local troops of Mir Huzoor Khan in which the troops of Mir Huzoor Khan were defeated and he fled away from the battle scene. General Ahmed Khan after this victory was then called back by king Zaman Shah to Kabul. But while returning back to Kabul Ahmad Khan took with him. Pt. Nand Ram Tikku finding him an upright and competent officer. As there were many independent principalities between Kabul and Kashmir so the former never had full administrative control over the latter and regular battles used to take place to keep the erring Subedars of Kashmir within their limits.
Pt. Nand Ram Tikku in course of time because of his sharp intellect and great administrative acumen rose to become a Dewan in the court of Zaman Shah at Kabul and changed the course of Kashmir's history more than once. Pt. Nand Ram Tikku was a man of great sagacity and tact. He came into the notice of Wafadar Khan for the first time at Kabul who was the Prime minister of king Zaman Shah.
Wafadar Khan made Pt. Nand Ram Tikku his sahibkar. Pt. Nand Ram Tikku due to his hard work, integrity and sincerity then gradually came into the good books of king Zaman Shah and became his most trusted person Pt. Nand Ram Tikku then started wielding considerable power and influence in the court at Kabul.
King Zaman Shah became so much pleased with his style of work and dedication that he appointed Pt. Nand Ram Tikku as his prime minister without any hesitation. When during one of the various campaigns of king Zaman Shah, Dewan Nand Ram Tikku found the government treasury empty he minted gold coins in his own name bearing the following Persian inscription.
Sikka-e-zaddur mulk-e-Kabul Nand Ram Aj Musalmanam, bagoyed Ram Ram Meaning Nand Ram earned coins in Kabul, Oh! Muslims call out Ram Ram. This Nand Rami rupee was in circulation in the tribal areas of both Afghanistan and Kashmir as late as 1910 A.D. and also these Nand Rami rupees were preserved in Sri Partap Museum, Srinagar-Kashmir.
Note: please Comment Here for UPDATES and CORRECTIONS
Why news media is in crisis & How you can fix it.
India needs free, fair, non-hyphenated and questioning journalism even more as it faces multiple crises. But the news media is in a crisis of its own. There have been brutal layoffs and pay cuts. The best of journalism is shrinking, yielding to the crude prime-time spectacle. My digital news .in has very few young reporters, columnists and editors working for it. Sustaining journalism of this quality needs smart and thinking people like you to pay for it. Whether you live in India or overseas, you can do it here
NOTE: Please email us for updates and corrections, if you wish to publish articles like this you can send them to info@mydigitalnews.in or mydigitalnews.in@gmail.com or you can Directicle write Articles on our Site by registering https://mydigitalnews.in/register
Disclaimer: Mydigitalnews.in provides the content from various information sources 'as is and the content to be used only for informational purposes and not responsible for the inaccuracy or deficiency of the provided information. Mydigitalnews. in have the right, at its sole discretion, to make modifications in any aspect of the provided information.
Mydigitalnews. in Internet site may contain links to other Internet sites. While we try to link only to sites that share our high standards and respect for privacy, we are not responsible for the content or the privacy practices employed by other sites.అస్వీకార ప్రకటన: ఈ సైటుపై లభ్యమవుతున్న మొత్తం సమాచారము మరియు లేఖనము కేవలం అవగాహనా ఆవశ్యకతల కొరకు మాత్రమే. ఇక్కడ ఇవ్వబడిన సమాచారమును ఏదైనా ఆరోగ్య సంబంధిత సమస్య లేదా అస్వస్థత నుండి కోలుకోవడానికి లేదా స్వస్థత కొరకు నిపుణుల సలహా లేనిదే ఉపయోగించుకోకూడదు. చికిత్స పరీక్షలు మరియు సేవల కొరకు ఎల్లప్పుడూ ఒక అర్హత పొందిన వైద్యుల సలహా తీసుకోవాలి.
What's Your Reaction?