Vijayawada Police is conducting COIVD Safety Campaign in an innovative manner
Vijayawada Cops Across the State (Telugu States) adopted Unique Ways To Make People Aware About Covid-19,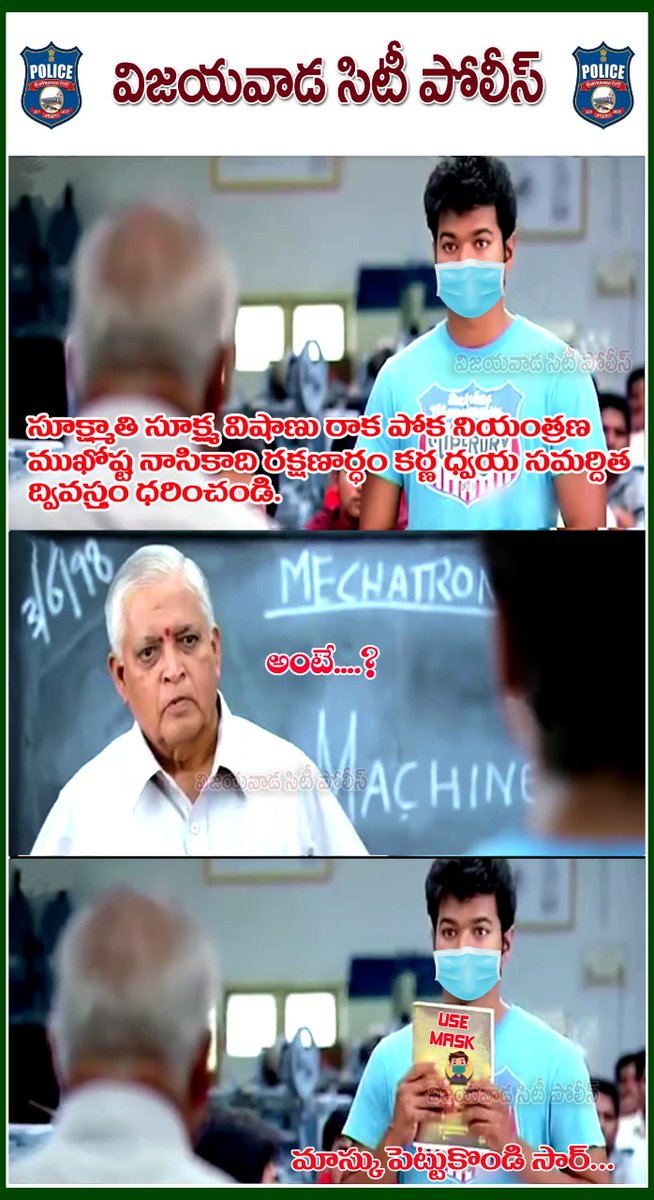 1Mainly Sloganed with - Wear a mas. to prevent the spread of the corona. The COVID 19 coronavirus pandemic seems to be bringing out the creative side of our police personnel across the country as they look for innovative ways of creating awareness campaigns to engage the public in COVID safety campaign. From creating music videos to street plays these cops are leaving no stone unturned to reach out to people.
in the same way VIJAYAWADA police tool the leap of MEMEs to engage people to the awareness of covid 19 -second wave 2021,
find the meme in the following tweet.
మాస్క్ ధరించండి...కరోనా వ్యాప్తిని అరికట్టండి #WearMask #Staysafe #VijayawadaPolice#APPolice pic.twitter.com/lIsL1e4AYI — Vijayawada City Police (@VjaCityPolice) April 13, 2021
As the cases of coronavirus increase daily in India and there is a fear of community transmission, it has become necessary to make the message reach as many people as possible. While the police are getting criticised for the recent spate of atrocities against citizens, some of them are using their power for spreading positive messages.
Message to the public from Our my digital news.in Founder and Editor Santhosh Kumar Athaluri:-
Dear readers, Please Remember and think once, What if one of our family members is in-police-Doctor-municipal- and front line-- As ordinary people, we know that if there is an accident, if there is a calamity like COVID 19, we have a chance to take rest. But for these frontline workers have no option but - to do public service or die - otherwise, they have to leave the job. So respect them.
What's Your Reaction?