DefExpo 2022 - Live demos of Indian defence capabilities on banks of Sabarmati enthral millions at defence expo
DefExpo 2022 propels 'Aatmanirbharta' in defence to next level . Indian defence ecosystem emerges as sunrise sector at DefExpo 2022. Firm takeaways for public & private industry, Armed Forces, start-ups, msmes and investors. India's growing global stature is evident in host of bilateral & multilateral meetings with foreign Defence Ministers. Live demos of Indian defence capabilities on banks of Sabarmati enthral millions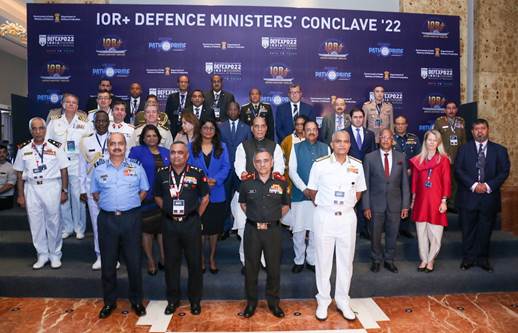 The 12th and largest-ever defence exhibition - DefExpo 2022 - has marked the emergence of India's defence industry as a sunrise sector for investment on the global scale in line with the theme of the expo – 'Path to Pride'. Being held in Gandhinagar, Gujarat, the five-day event, which commenced on October 18, 2022, witnessed unparalleled participation of over 1,340 exhibitors, businesses, investors, start-ups, MSMEs, Armed Forces and delegates from several countries, with engagements spread over four venues. Raksha Mantri Shri Rajnath Singh's leadership enabled the implementation of vision of the DefExpo on ground with the smooth conduct of dozens of engagements over three business and two public days and laid firm platform for the entire national defence ecosystem to collaborate and build a self-reliant India.
The overwhelming response of investors and businesses showed that the objective of a defence sector worth USD 22 billion, with exports of Rs 35,000 crore by 2025, will be achieved. The best minds of the defence sector came together at over 20 seminars across three business days to brainstorm over wide-ranging topics on Defence Research and Development, new technologies for air warfare, Indigenisation of Defence production, promotion of exports and encouraging investments.
Conclusion of 451 MoUs, Transfer of Technology agreements, product launches and orders to domestic businesses, worth Rs 1.5 lakh crore, reflected India's progress towards achieving 'Aatmanirbharta' in Defence and integration between the Armed Forces requirements, R&D and defence production by public and private players. The prowess of Indian defence and aerospace manufacturing was evident in the display of aircraft, tanks, arms & ammunition, cutting-edge technologies and weapons systems at the first DefExpo exclusively for domestic companies. The visits of the Prime Minister, the Raksha Mantri and other dignitaries - both local & foreign - to the stalls encouraged the Indian Defence industry.
For the first time, an investor outreach event 'Invest for Defence' was organised bringing together businesses and investors. The importance of this historic DefExpo was reinforced when Prime Minister Shri Narendra Modi graced the inaugural ceremony on October 19, 2022, and invited the world to be part of the 'Aatmanirbhar Bharat' journey. The Prime Minister made a number of announcements, including the 4th positive indigenisation list; laid the foundation stone of Air Force Station Deesha, just 130 km from our western border; unveiled the HAL-designed & developed HTT-40 trainer aircraft; launched Mission DefSpace and inaugurated the India and Gujarat Pavilions.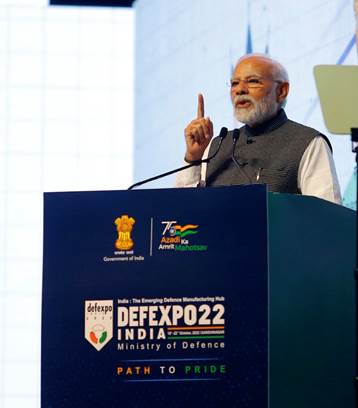 Raksha Mantri Shri Rajnath Singh attended various seminars, in which Armed Forces, government stakeholders and industry representatives from India and abroad got an opportunity to engage with each other to carry forward the Prime Minister's vision of 'Make in India, Make for the World' for a secure and prosperous future.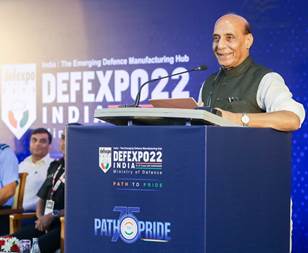 India's growing global influence was apparent in the multiple bilateral and multilateral engagements held on the sidelines of DefExpo 2022. The India-Africa Defence Dialogue & the Indian Ocean Region plus Defence Ministers' Conclave hosted by the Raksha Mantri and his bilateral meetings with friendly nations, other than those of Raksha Rajya Mantri Ajay Bhatt, Chief of Defence Staff General Anil Chauhan and Defence Secretary Dr Ajay Kumar, was a reflection of India's growing stature and the world's increased confidence in the Indian defence sector.
The people of Gujarat and millions following via digital media were enthralled with live demonstrations on the banks of the Sabarmati River by the Armed Forces, DRDO & DPSUs. Uniformed personnel performed daredevil exercises with helicopters above and boats below, mesmerising the audiences to the edge of their seats. A spectacular drone show, the biggest ever with 1,600 drones, on 19 October lit up the evening skies of Gandhinagar as thousands were left in awe of India's technological progress powered by local start-ups.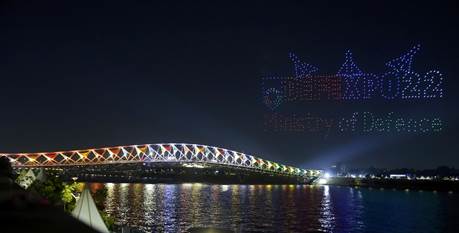 DefExpo 2022 has served as a unique platform to project India's vision for 'Aatmanirbharta in Defence' as an integrated pursuit of economic development and national security. Shri Rajnath Singh's speech during the Bandhan ceremony clarified that India's efforts to strengthen the defence sector are not aimed at establishing supremacy, but to protect the nation from future threats and reaffirmed that India is a peace-loving nation which is fully equipped to give a befitting response if provoked.
Throughout DefExpo 2022, India has sent a clear message to the world that its defence industry has entered into a golden era and is fully ready to meet the country's security requirements. India's invitation to global players to become partners in an 'Aatmanirbhar Bharat', with the slogan 'Make in India, Make for the World' resonated well with friendly foreign countries.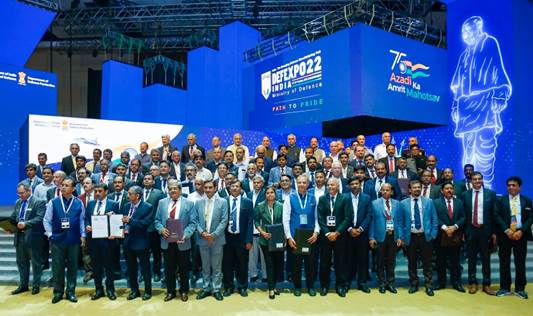 GOLDEN ERA OF INDIAN DEFENCE HERALDED WITH MoUs, AGREEMENTS & PRODUCT LAUNCHES
It was a moment of pride for Prime Minister Shri Narendra Modi to inaugurate the DefExpo in his home state of Gujarat. The opening ceremony witnessed paradigm-changing announcements and project launches, which will lead to the holistic development of the entire nation and the establishment of a defence manufacturing hub in Gujarat. The Prime Minister laid the foundation stone of Air force station Deesa air base in Banaskantha, near the Indo-Pak border, which promises to strengthen our security architecture and response capabilities in the Western sector. He also launched Mission Defence Space, which will empower our forces and form the basis of India's space diplomacy.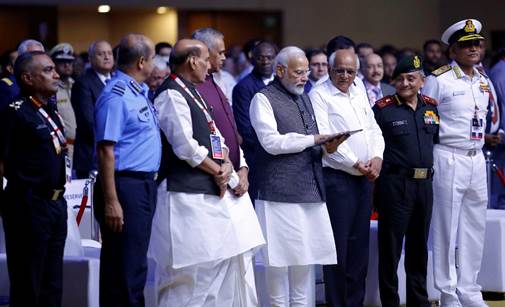 The next day, 345 MoUs, 42 Major Announcements, 46 Product Launches and 18 Transfer of Technology agreements were concluded as part of the Bandhan ceremony. The host state of Gujarat contributed 28 MoUs and one Product Launch. In a major boost to indigenisation, the Indian Air Force and Hindustan Aeronautics Limited (HAL) also signed a contract for 70 HTT-40 trainer aircraft worth Rs 6,800 crore, which was unveiled by the Prime Minister on the 2nd day of the expo at the India Pavilion, the marquee pavilion showcasing indigenous defence products. The Raksha Mantri acknowledged that the 12th edition of the event marked a new chapter in the growth of the Indian Defence sector and progress in achieving the twin objectives of self-reliance and an increase in defence exports.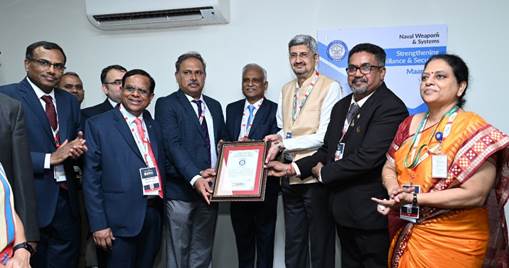 INDIA'S GROWING GLOBAL STATURE
On the sidelines of the expo, India's growing global influence was visible as African nations took part in the India-Africa Defence Dialogue (IADD) in Gandhinagar. Raksha Mantri indicated India's readiness to fulfil the security requirements of African nations, and it was welcomed by all those in attendance. The civilisational links between India and Africa are maturing into strong partnerships, with defence cooperation being one of the potential areas of convergent interests. Fifty African countries, including 20 Defence Ministers, seven CDS/Service Chiefs and eight Permanent Secretaries participated in the Dialogue attesting to the high priority accorded to India-Africa engagement in defence and security fields.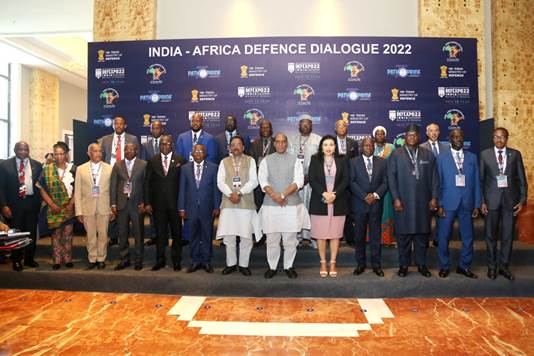 The second Indian Ocean Region Plus (IOR+) Defence Ministers' Conclave also witnessed participation from 41 countries, and India communicated its vision of international relations as a win-win rather than a zero-sum paradigm. In addition, Raksha Mantri, Raksha Rajya Mantri and Defence Secretary Ajay Kumar held bilateral meetings with various defence officials of participating nations during the DefExpo22.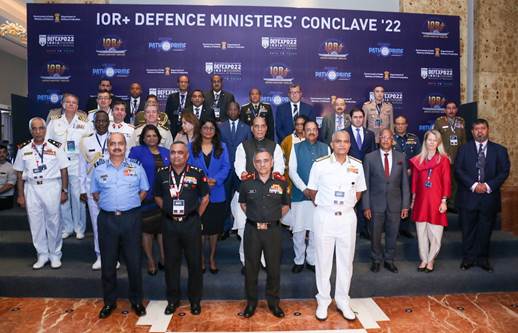 PLATFORM FOR ALL STAKEHOLDERS
'Invest for Defence', a marquee event of the Ministry of Defence, was held to promote investment in the defence sector in the country both by the Indian industry as well Foreign OEMs. Private sector enterprises such as Airbus, Lockheed Martin, SAAB, Adani Defence & Aerospace, Bharat Forge and L&T shared their ambitious plans at panel discussions held before the event, showing the potential for immense growth in the Indian Defence industry in the future.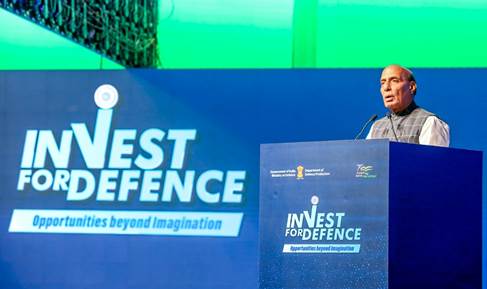 This expansion in the defence sector is not restricted to large businesses as it throws up a wide variety of opportunities for start-ups as well as MSMEs. Rs 300 crore has been approved so far for more than 100 iDEX winners to develop products/technologies in more than 50 technological areas to further support this growth. Over 6,000 applications in the last seven editions of the Defence India Start-up Challenge and Open Challenge show that start-ups are contributing extensively to the growth of Indian Defence. The Raksha Mantri Awards for excellence were presented to 22 enterprises of different sizes and included 13 private players.
States had wide representation at the expo, with 10 state pavilions and stalls, including one for Gujarat, and the two Defence Industrial corridors in Uttar Pradesh and Tamil Nadu. The wide variety of weapons, components, platforms, and services indicates the depth of the domestic defence manufacturing sector's capabilities and future potential.

SEMINARS
Seminars formed a cornerstone of the DefExpo 2022 platform for all stakeholders to connect and engage with each other. Representatives from governments, armed forces, R&D institutions, industry and investor communities came together to identify opportunities for business growth, emerging challenges and areas of convergent interest.
India reached out to the global community through these seminars, held in hybrid mode. At the US-India Business Council (UIBC) and Society of Indian Defence Manufacturers (SIDM) seminar on 'New Frontiers in US-India Defence Cooperation: Next Generation Technology, Innovation & Make in India', US companies were invited to set up manufacturing units in India and develop technology collaborations with Indian industry.
The "Aatmanirbharta in Defence R&D - Synergistic Approach" organised by Defence Research & Development Organisation (DRDO) indicated the growing integration of research and development with industry and armed forces requirements. In another path-breaking initiative, FICCI and Headquarters-Integrated Defence Staff (HQ-IDS) jointly held a seminar on "Aatmanirbhar Bharat & Make in India: Roadmap for the Armed Forces". This represented a unique instance where the Armed Forces and private industry came together to balance the demand and supply side aspects of Indian Defence manufacturing.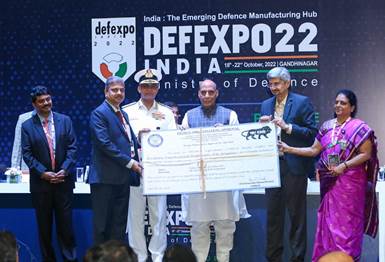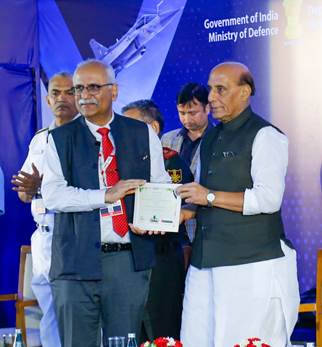 SHOWCASING THE INDIAN DEFENCE SECTOR TO THE PEOPLE
DefExpo 2022 was not restricted to business participation. The live demonstrations held at Sabarmati Riverfront entertained people of all ages, including those connected through virtual platforms. Breathtaking combat free falls by Armed Forces, daring displays by the elite Marine Commandos (Marcos) and Para Commandos and various combat manoeuvres on sky, land and water left indelible impressions on the spectators.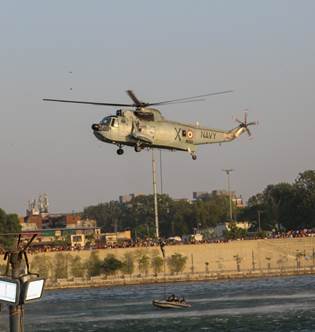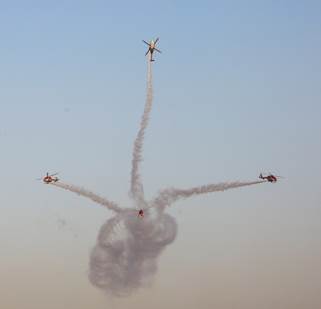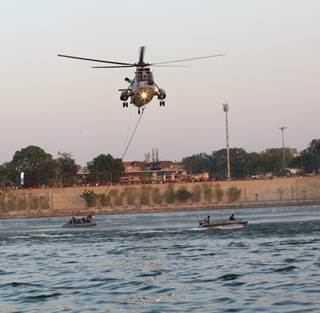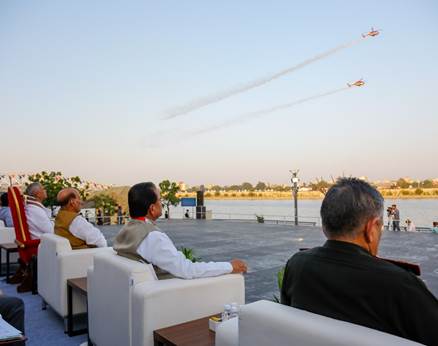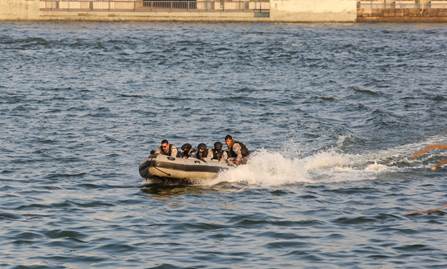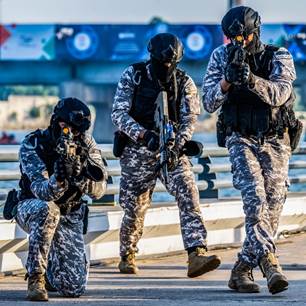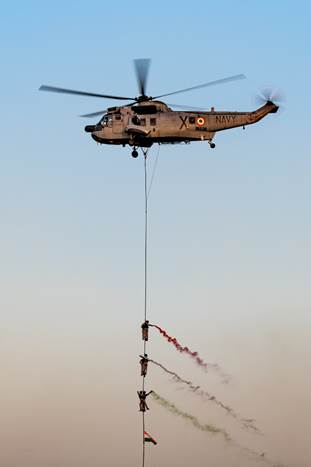 Patriotic and martial tunes bid farewell to setting sun each evening in a joint band display by the three Services. The seeds of various defence initiatives sown at the DefExpo 2022 promise to bear everlasting fruits in future contributing to India's quest for self-reliance and propel the Nation into a top defence exporter where everyone has a role to play.
What's Your Reaction?